The Mark Spencer Hotel, Downtown Portland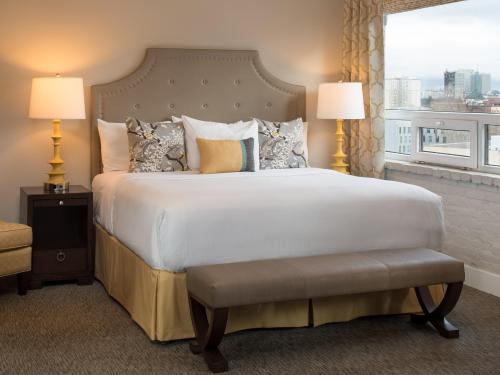 Downtown Portland's Hotel to the Arts, centrally located where the fashionable Pearl District meets the burgeoning West End.
The Mark Spencer Hotel is the perfect choice for your visit to Portland, Oregon. Each room is unique, personally accessorized to create a comfortable homelike atmosphere with the added benefit of our hotel services. A wide variety of spacious studios and one-bedroom suites await your selection - impeccably serviced and complemented with kitchen furnishings and ample closet spaces. The hotel is completely non-smoking and features select pet friendly rooms.
Hotel guests enjoy daily complimentary continental breakfast with selection of espresso coffees, copy of The New York Times, Wi-Fi, afternoon tea and cookies, and evening wine reception. Additional amenities include room service, individualized voice mail, 24 hour fitness center, an on-site laundry facility and dry-cleaning services, hair dryers, iron and ironing board. On-site parking available for the lowest fees in town including discounts for hybrids. Check in time is 4pm and check out time is 12 noon.
Guest Services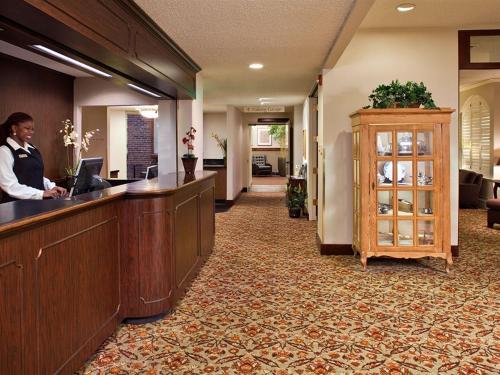 Our convenient city center location allows you to enjoy Portland's vibrant downtown and we can set the stage for your cultural enjoyment. Our knowledgeable concierge team will guide you to fine arts packages, opera, theatre, museum and dining reservations. Situated where Portland's fashionable West End meets The Pearl District, Mark Spencer hotel guests are just steps from unique boutiques, diverse restaurants, famous food carts, galleries, teashops, cultural attractions, parks, and tax-free shopping. No trip to Portland is complete until you have visited the world's largest new and used bookstore - Powell's Books - only one short block from the Hotel or VooDoo Doughnuts featuring unique flavors and shapes including the renowned maple bacon breakfast doughnut.
After your day of exploration is complete, retreat to the respite of the hotel with a relaxing cup of afternoon tea in our classic Euro-style library, or enjoy an evening glass of local wine and a slice of cheese in our Atrium lobby. Rest assured, our gracious hospitality will bring you back time and time again.
Pet Friendly Accommodations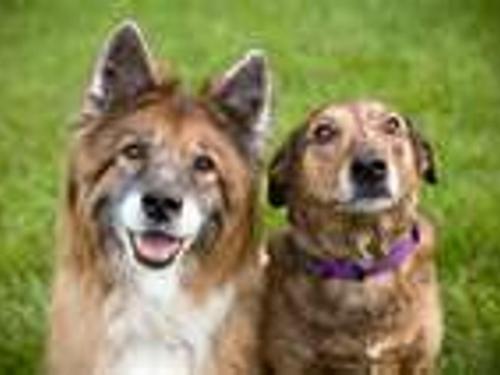 No need to leave your companion with friends or in a kennel when you travel to Portland. The Mark Spencer Hotel is Pet Friendly. Pets are welcomed with a $25 per pet, per night, non-refundable fee on select pet friendly floors. Advance notice is greatly appreciated. We provide a nice welcome packet complete with food dishes, pet bed, treats and specific resources to make your stay most enjoyable. Guests are responsible for proper pet Etiquette and any additional cleaning/damage fees.
On-Site Fitness Center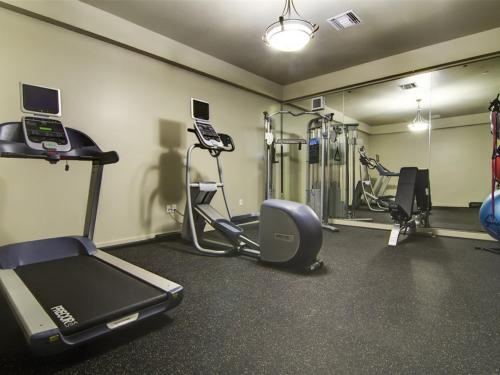 Our complimentary 24 hour fitness room provides easy access to staying fit while on the road. Precor equipment includes cardio and strength machines complete with video screens and headphone jacks, other equipment includes an incline board, balls and free weights. Located on the Ballroom level of the hotel, the fitness center also provides a quick escape through the Courtyard for a run or walk.
Contact our Front Office staff for maps or referrals to full service fitness facilities located nearby and offering discounts for hotel guests.
Extended Residency
If you desire an alternative to Portland's costly luxury hotels, yet demand immaculate and tastefully appointed accommodations consider The Mark Spencer Hotel. Our extended stay option offers great comfort, attractive style and excellent services. Our rates are structured to help meet your travel budget; we offer both weekly (7-30 nights) and monthly (31 or more nights) options.
Corporate Apartments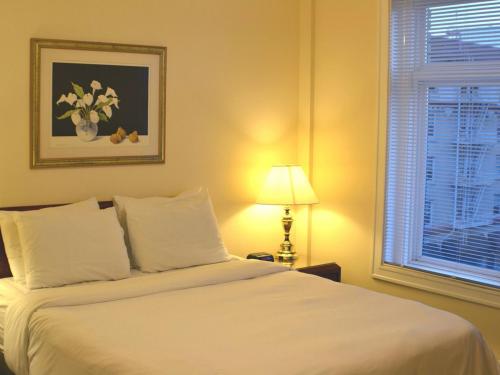 Affordable furnished Studio and One-Bedroom Apartments are also available in the adjacent Washington Plaza Apartments. These extended stay accommodations include the same complimentary amenities as The Mark Spencer Hotel. Daily, Weekly, Monthly, and Extended Stays rates are available.
All units include new Beautyrest black bed sets, kitchenette with all cooking utensils, and private bath in a comfortable home like atmosphere. Housekeeping services are included with full service once weekly on Mondays, with refresh on Wednesdays and Fridays. Contact our Sales Office for details.